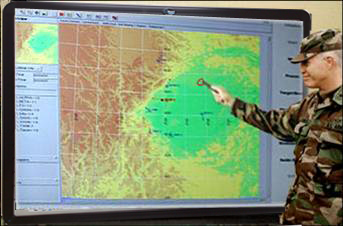 Introduction
By combing multimedia with whiteboards, MolyBoard provides a platform of world-leading commands, military teaching, and training in the military field. The intelligent control and management maximizes the efficiency and precision of military commands. Thanks to the interactive links among the military command systems at various levels, the fighting intentions can be quickly and correctly passed down, which is helpful for enhancing the management education and cooperation of armies.

The application of MolyBoard products in the military field brings out effective, vivid, and practical communication among armies. No matter where you are, in a training base, a report hall, or a command center to receive training or share information, MolyBoard is always in a position to provide you in real time with dynamic information about armies at home and abroad.
1. Electronic map can fast zoom, lock and clearly show the combat zone, providing an accurate picture of the living battlefield, thus helping commanders make the most appropriate deployment
2. Electronic sandbox integrate multi- modes information and simulate combat zone situation. Video annotation feature allows commanders and soldiers do the tagging in the static and dynamic video file. After tagging, they can continue to play video files while ensuring the marked pages stored in the whiteboard software. Commanders based on a variety of map information and data, marking war deployment by using special icons and symbols on the screen and quickly make different tactical changes to improve the actual significance of the exercise in different circumstances.
3. Multimedia has a various forms of data input interfaces. The key data is no need copying and flexible while ensuring the confidentiality of critical information.